So you had an engagement shoot done but you are not really sure what to do with the photos from it. You are also thinking on what to do to keep track of all the guests that have come to your wedding. You could go with one of those traditional guest books with pages and pages of lines where people can sign their name on. But being realistic you'll most likely look at it once and throw it into a closet somewhere because they just don't look that good. Now what if you could smack your guests upside their face with a book of awesome right at the door that shows off multiple shots from your engagement and allows them to sign it?
Enter the Guest Book (of Awesome!). This bad boy comes in at a size of 10×10 with multiple cover options including leather (upgrade) as well as different colours – you can have your guest book match your wedding (or come pretty close to it). Now not only can you have this guest book visible at your wedding you won't be embarrassed to leave it out around the house to show off to family and friends. It will even look good sitting on your shelf; there is no way you want to hide this in the closet!
How much do I like this thing? I'm using it for my own wedding! The book below is a faux leather that has a little texture to it (you can see the bumps in the photos) and the yellow colour is called Pot O'Gold.
Here's a shot of the front cover (the image cutout is not standard but can be added on – Jes and I had the perfect picture from our invites for use on the book so we added it in):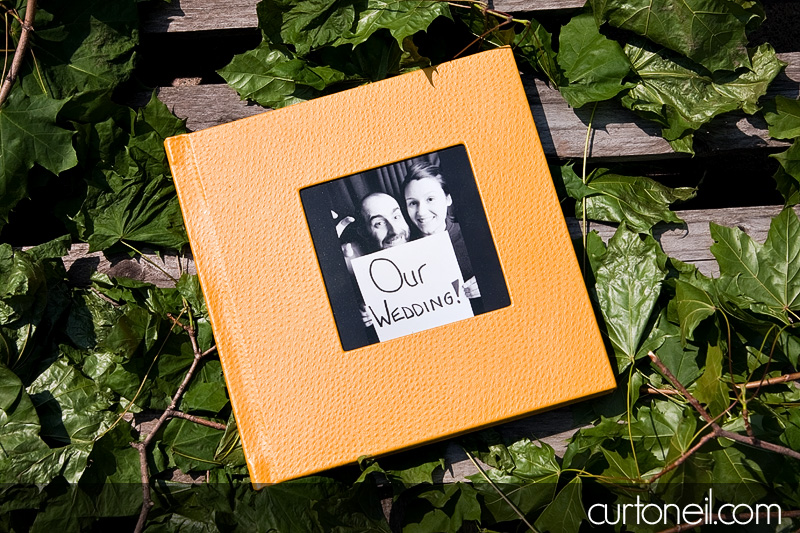 The book opened up – your guests sign the left hand page – you could let them sign the photo if you want: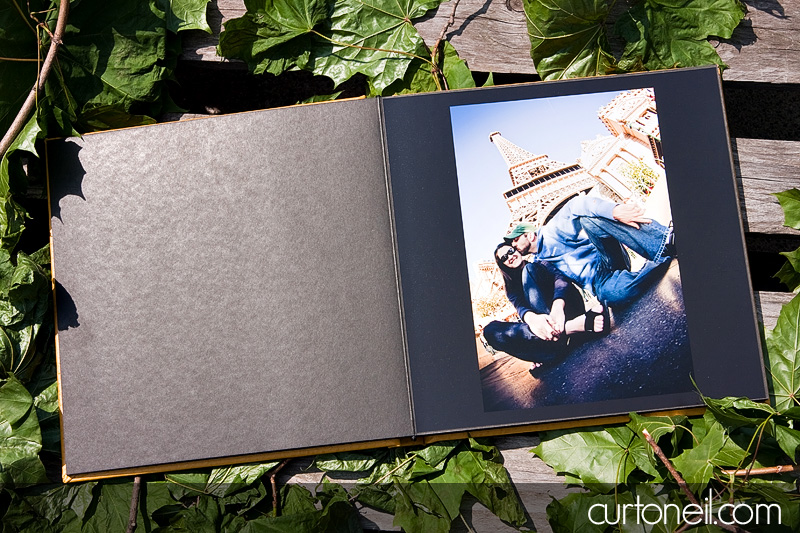 And ending it off with a shot showing off the thickness of the pages:


If you are interested for having one of these for your wedding let me know. They will take approximately 3 weeks to arrive.
Also feel free to check out the Brag Book